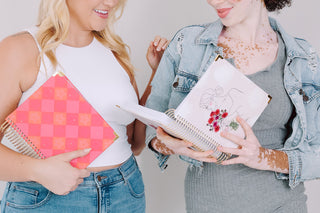 Highest Quality Luxury Materials.
Designed to Feel Like Your Next Level.
All of our planners include the highest quality paper, covers, designs & interiors. Inside, conquer your limiting beliefs, organize your dream schedule, reach your highest potential, budget and map out your expenses, conquer and create new habits, and plan your life and dreams like a go getter.
Designed For The Go Getter.
Our Gorgeous Soft Cover Scalloped Book Bound Planners, are stealing hearts.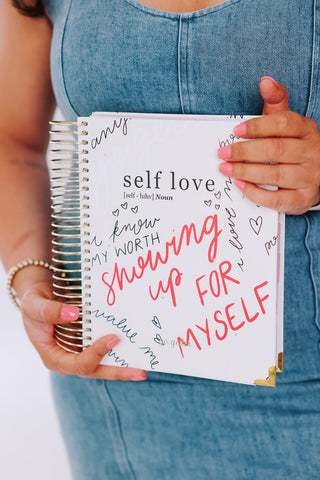 Undated 5 in 1 Planning System For Your Highest Growth & Expansion.
Your personal development, bestie.
Completely Undated Interior, for YOU to start your goals ANYTIME. Unlike any other planners out there.
1- Daily Planning Spreads
2- 7 Day Weekly Planner Spreads
3- Monthly Planning Spreads, Goal Setting Planner, Budgeting Planner Sections
4-Monthly Vision Board Spreads
5- & Personal Development Tools. Designed For Your Daily Personal Growth Journey.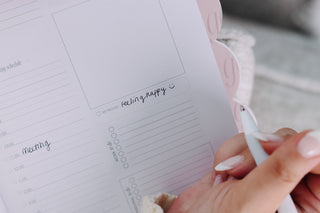 Designed By A Life & Business Coach
Custom Psychology Based Strategies For Your Daily Routine. 10 Minutes A Day, Can Go A Long Way.
I founded these planners, for you. To provide you with a one stop shop, tool. An all in one daily gratitude journal, planner, scheduling tool, and personal development book.
For your growth. For your dreams. For the life you have always dreamt of. With my degree and background in psychology, I have been life coaching women for years, in ALL phases of their life. No matter what season you are in, no matter what you are up-leveling into, it can be scary. I watched and helped my clients one by one, change the trajectory of their lives through my dream life coaching approach and activities to help guide them to clarity, break through fear and create an action plan for their BIG goals.
When I made the biggest shifts, and risks of my life- it was the time I questioned everything and felt the most resistance. I completely first hand, understand not feeling fulfilled, but know how to help YOU find your highest fulfillment.
The Go Getter Girl Products are there to be YOUR go to, your daily essential. after coaching thousands of women, I decided to take these tools and create a daily physical planner for my clients to use on a daily basis to amplify the work they do with me. Well, three years later, here we are. Helping women, all over the globe with our planners, notebooks and handbags.
All of the tools in this planner were tested, created and designed to REALLY help you open your eyes to the life purpose that was truly meant for you in a broken down, daily way.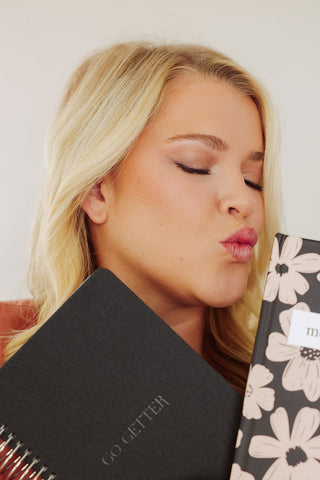 Choose Your Dreams.
Our daily planner pages are signature to our brand and are the reason we founded this company. We believe that taking just ten minutes each day to plan and prioritize can help you manifest your goals, improve your habits, and achieve success.
Our planners that serve as an all-in-one daily gratitude journal, planner, scheduling tool, and personal development book with a dream life coaching approach. They were created to help women in all phases of their lives find clarity and create an action plan for their big goals. The Go Getter Planners & Products have helped thousands of women all over the globe. The tools in the planner were tested, created and designed to help you find their your purpose, and best self in a daily way.